As part of our Black History Month celebrations, Helen chatted with Ros Norford, a Manchester-based Creative Practitioner and creator/director of Aleiah's Adventure, an interactive theatre production for children aged 8+ that utilises British Sign Language and explores diversity in North West England.
Ros talked with Helen about accessible theatre, visual vernacular, and putting on the production during Black History Month 2021.
---
You can listen to the episode in full above, and we've provided a transcript below!
---
Helen Woodward: Today, my guest is Ros Norford. Ros, you're a community artist and theatre maker, and you're the director of Aleiah's Adventure. Welcome to 10 with Zen, Ros!
Ros Norford: Hi Helen – thank you for having me!
Helen: It's lovely to see you. So Ros, we're very excited about this. Can you tell us about the play, and what inspired the story?
Ros: So Aleiah's Adventure is an accessible piece of family theatre, it's for ages 8-12 (Key Stage 2), and it celebrates history and diversity that we combined in the North West. It's all told through the eyes of a young girl called Aleiah, who has a bit of a fall-out with her dad and decides that she's going to make her way through the city and on that journey, she meets some really fascinating historical figures!
Helen: How long is the play going to be running for, and how can schools who are interested book and contact you?
Ros: So the play will be running for the next five weeks, starting from October 3rd 2021, and then finishing on 5th November. If people want to get in touch, they can email aleiahsadventure@gmail.com and book in that way!
Helen: OK, that sounds great. You're deep in rehearsal time at the moment, and we really appreciate you booking time to do this podcast interview with us in the middle of your rehearsals. Now, I know you have British Sign Language (BSL) integrated into the movement and dialogue within the play – I'm really interested in BSL, I have my first level in BSL which I'm quite thrilled about! But not all of your audience will have sign language receptive skills, so how is it going to work? How is it enhancing the communication and the dialogue during the play?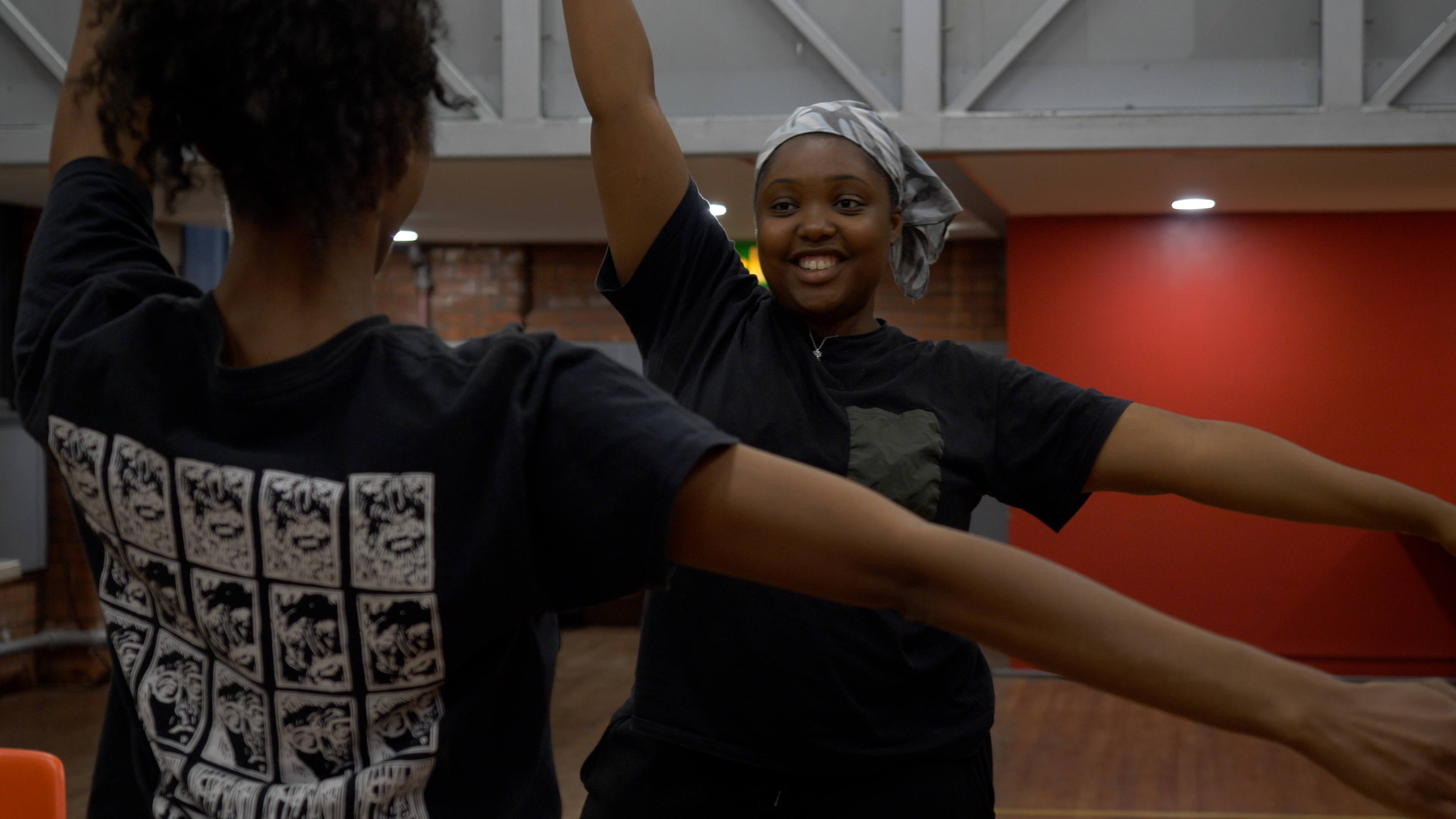 Aleiah's Adventure rehearsal with actors Alexandra James and Bobbie Avril
Ros: So yes, we've integrated BSL and also other visual communication aids into the performance to make it more accessible to a wider audience. We use this storytelling method called 'visual vernacular', which uses sign language, but it's also a style of physical theatre and mime. And instead of telling the story, and just using words, you might bring that to life through your body, hand gestures, and partner work as well. I think it actually becomes so much more accessible to everyone because you're getting that information in loads of different ways: facial expressions, movement, as well as verbal storytelling.
Helen: OK, so 'visual vernacular'?
Ros: Visual vernacular, yeah! It's an artform that was formed in the deaf community.
Helen: Right, that sounds really interesting. Building on that, how are the actors able to interact with the children during the play?
Ros: So the children help Aleiah find her way through the city. When she has this falling-out at the beginning of the play, she asks them 'shall I carry on with this journey, or should I stop now and go home?' and they advise her along the way of how she makes the decisions, or whether she should listen to certain characters' advice. They almost become a best friend for her on her journey.
Helen: Have you tried this out with any audiences yet to see how it works?
Ros: Yeah, we tried a bit of it out. We did some small scenes very early on in the process, and I think that's what influenced a lot of Aleiah's characterisation and who she is; this person who wants to be everything and do everything. It really came from young people.
Helen: I'm very excited to see it myself! So at the moment, you've got bookings coming in from around Greater Manchester?
Ros: Yeah, it's been really good to see. We've booked in South Manchester, and some schools in Salford as well. Because it's such an educational play, it has so many different perspectives that it comes from, you've got the history of Manchester, also the fact that it's touring during Black History Month, it coincides brilliantly in that way. And also, just the fun of it. The fact that the set was really interesting to explore before and after the show – it comes with an activity pack that teachers can use in the classroom after the performance, there are three creative activities that you can do around the women.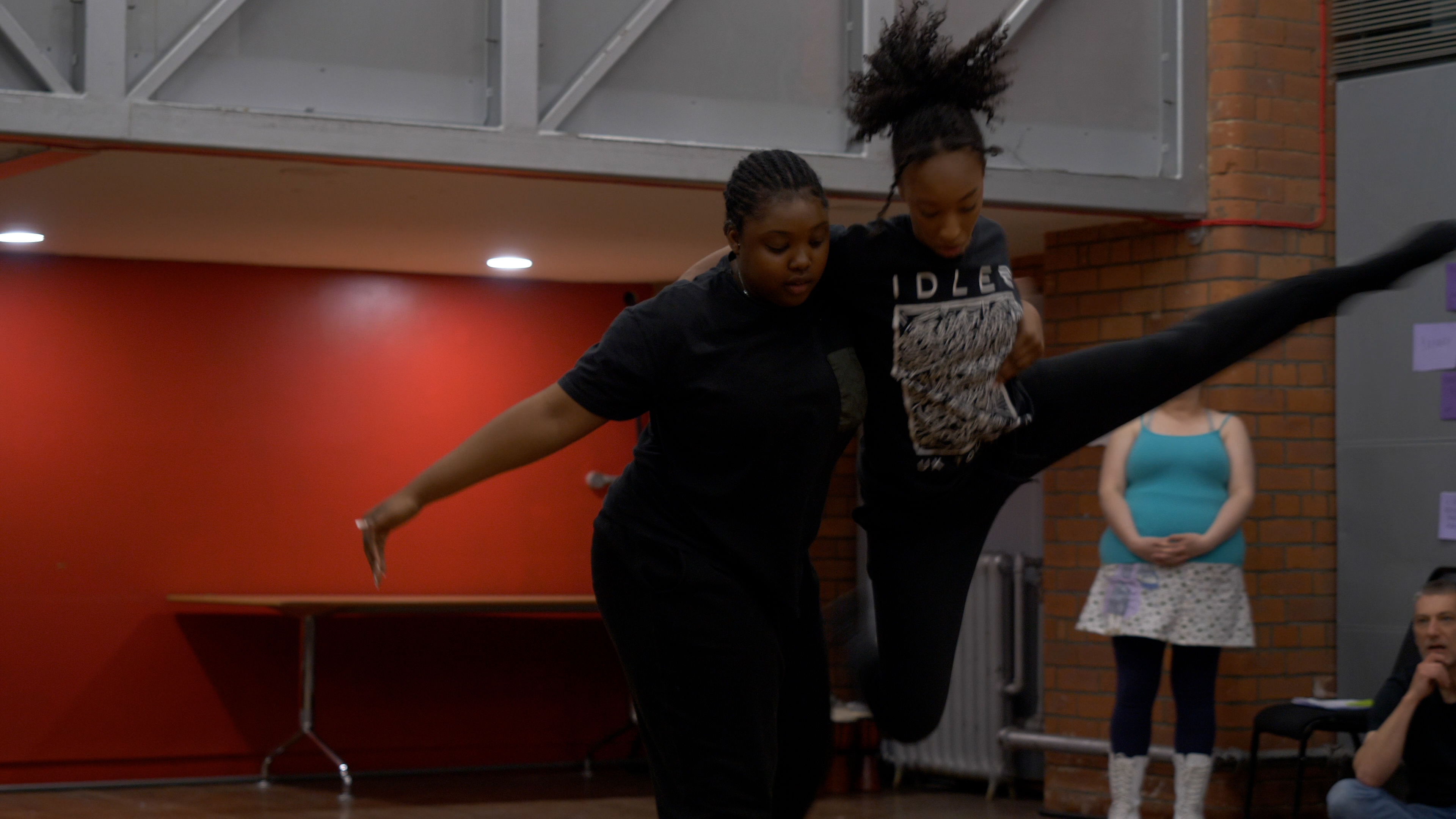 Helen: That sounds really helpful, and wonderful! Are you finding the bookings are coming primarily from English departments at schools? Where's the interest coming from?
Ros: So far, the interest has been mainly from English departments, but also some PSHE – because of that wider social perspective, there's been an interest from that side of things as well. Also, some SEN leads have been really interested because the performance tailors to people who might be neurodivergent or might need different visual communication aids. We also offer discounts, say if it's more than one day that's being booked, or they can't afford it, we can look at different options to make it work!
Helen: Oh right, that's good to hear. Ros, it's been brilliant talking with you today, and we're really excited for you and to see how the play rolls out in Greater Manchester, thank you so much for finding time in your busy rehearsal schedule to be our guest today on 10 with Zen.
Ros: That's OK, thank you so much for having me. It's been really good to chat to you about the show!
---
Get your tickets at https://www.rosnorford.com/book-tickets. If you're interested in booking Aleiah's Adventure for your school or have any other questions, email Ros at aleiahsadventure@gmail.com!
Follow Aleiah's Adventure on Twitter or watch their promotional video
Connect with Host Helen Woodward on Twitter or Linkedin
Stay up-to-date with 10 with Zen by following us on: