It was World Mental Health Day recently, an international day for global mental health education, awareness and advocacy against social stigma. Mental health issues seem to be having a real impact on the teaching profession - in 2019 a record number of calls were placed to a helpline for teachers and other education professionals with mental health problems.
Much has been written and researched about the impact of mental health issues on the teaching profession. School funding squeezes, high accountability pressures and more staff leaving the profession adding to the workload of teachers are all factors.
There are, of course, factors here that schools can't control when it comes to their staff members but there are a number of different ways they can support the mental health of their teachers. To that end, we've gathered together some of the best websites and tools online to help you support the mental health of your teachers.
First, the facts.
In 2018 the charity Education Support Partnership published their Teacher Wellbeing Index. It had a huge amount of insight into the issues facing education professionals and leaders. Some of the key data that stood out to us here at Zen Educate was: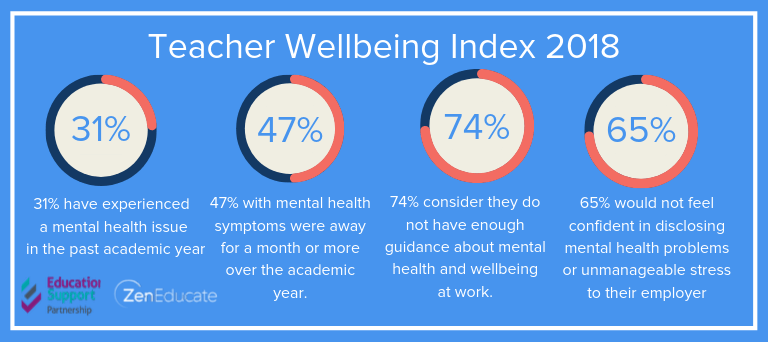 The Education Support Partnership further cited past research which has identified six aspects of work which, if managed poorly, could create stress in the workplace. These are not school-specific but a useful insight into what can exacerbate mental health issues in a school :
Demands – such as workload and work environment
Control – a person's own influence over how their job is carried out
Support – from colleagues, line-manager and organisation
Relationships – to reduce conflict and deal with unacceptable behaviour
Role – understanding of the job content and expectations
Change – how change is managed in the organisation
They further shared that the main factors influencing good quality of work are below:
Leaders who support employees and see where they fit into the bigger organisational picture
Effective line managers who respect, develop and reward their staff
Consultation that values the voice of employees and listens to their views
Concerns and relationships based on trust and shared values
What can be done to support teachers' mental health?
There are a huge amount of resources out there and we will go through five in this article. By implementing at least some of these options your school could go a long way towards making changes to those percentages seen in the infographic above, especially around making your staff feel more comfortable to share their issues with you and ensuring they have guidance on what to do around mental health issues.
1. Education Support Survey
We've started with a survey that you can share with your staff members to get an insight into their needs. It's incredibly important if you've decided to see how your school can focus on supporting your teachers' mental health to make sure they feel listened to and included from the very start of the process. They will have the information that you need to ensure that any decisions or changes you make will have them at the very centre.
How does it work? All members of staff complete a confidential online survey that comprehensively measures their views on what it's like to work in your organisation.
Education Support analyse the data into common themes to help you see where your organisation's strengths are and what needs improvement. Along with your data, they send you a guide on how to best understand your data outcomes and advice on how to share the
2. Headspace Meditation
Mediation may just seem like the latest trend but it's been proven time and again to be of huge value. Encouraging your staff to embrace it means not only will they reap the benefits themselves, they also could then share their insight with their pupils.
Headspace says this: "Educators are pivotal to society – we entrust our children to them for 8 hours a day, 5 days a week, 10 months a year. And Headspace is committed to addressing some of the most pressing needs of educators such as reducing stress, increasing resilience and improving sleep."
Their free handy guides are specifically designed to help teachers get into mindfulness and meditation. Headspace offers free access to all K-12 teachers, school administrators and supporting staff in the US, UK, Canada and Australia so it's a free resource your teachers can take full advantage of.
3. Practical changes
See Steve's amazing article here
In this article Steve Rippin, Assistant Headteacher at Tapton School in Sheffield, shares the changes they made and how they've impacted teacher mental wellbeing. Key takeaways were:
Reduced reporting requirements and meetings to support staff workload
Changed email protocol: the server is switched off between 7 pm and 6 am Monday to Friday and all weekend
Created a wellbeing and happiness group
Created in-school activities for staff such as coffee and cake get together at break, art therapy sessions after school, walking clubs, and circuit training
It's already been shown to have a huge impact on the school and well worth reading the article to find out more. They keep the teachers' needs at the core of any decisions they make about mental health - anything they offer to students they offer to staff as well.
4. Use what's out there
Learn more about Mentally Healthy Schools here
Mentally Healthy Schools brings together quality-assured information, advice and resources to help primary schools understand and promote children's mental health and wellbeing. Their aim is to increase staff awareness, knowledge and confidence to help you support your pupils. It's a welcoming space to go in and find what you need to introduce your school to better their mental health. This fantastic section is specifically on how to support staff wellbeing and has a variety of questions to go through to help you along the way.
5. Let help in
See how to access this free training here
Finally, Education Support Partnership also offers a free mental health awareness training session which could also be an excellent starting point for your school.
Small steps make a big difference
Mindfulness and mental health support does seem to be a hot topic these days, but with stats like those shown in the Teacher Wellbeing Index improvements are clearly needed. They don't have to cost your school very much at all, as small changes, thoughtfully and carefully done, can make a huge difference. Every school has different needs but the issues arising in education in the UK do seem to be universal - making improvements to supporting teachers mental health could go a long way toward stemming the flow of teachers leaving the profession or resulting in taking long term sick leave. It also is an excellent example to give to pupils and could well lead to improved mental wellbeing throughout the school.
We have a number of excellent teachers and TAs available to work with right now - you can check them out by signing up with here: